Academic Support Information - What is it? & How can I get support?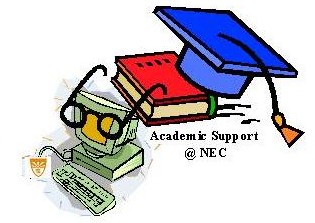 WHAT IS ACADEMIC SUPPORT?
Academic support services at the Northeast Center of Empire State College include workshops (online & onsite), one-to-one appointments, phone appointments, online support (e-mail, webcam, & instant messaging), and small group assistance (online & onsite) in the following areas:
Time Management,
Goal Setting,
Effective Thinking/Confidence,
Understanding Learning Styles,
Reading Strategies,
Critical Thinking,
Writing Support,
Information Literacy & Research Skills Development, and
Stress Management.
HOW CAN I GET SUPPORT?
Contact Dr. Lisa D'Adamo-Weinstein by phone (518-273-6203) or by e-mail (Lisa.D'Adamo-Weinstein@esc.edu) to schedule an appointment.