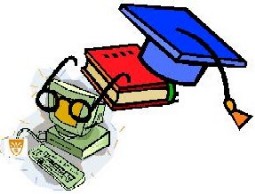 Academic Support @ Northeast Center
Hello! Let me introduce myself, I am Lisa D'Adamo-Weinstein, Director of Academic Support at the Northeast Center.
I created this website to give all Northeast Center students access to a wide range of academic support resources. I also want to make my work available to my colleagues, both inside and outside of Empire State College. By clicking on the links below, you will find information about me as well as information about the academic support services I provide and the materials I have designed to assist Empire State College students, staff, and faculty maximize students' academic success.
Contact Information- Includes my phone and e-mail contact information.
Academic Support Information - Includes services available to Northeast Center Students as well as a link to Presentations, Handouts, Weblinks, and Other Academic Support Resources.
NEW INFORMATION
I've added new information/documents for the September Term:
NORTHEAST CENTER - "Learning @ Lunch" Academic Support Workshops
MAKING THE MOST OF YOUR TIME: TIME MANAGEMENT STRATEGIES FOR
WORK, SCHOOL, & LIFE


Are you a busy adult learner with competing personal, professional, and educational demands? If so, this workshop will provide you with practical advice and effective techniques to help you balance your priorities and take control of your time. You will be introduced to a variety of time management tools and techniques that will assist you in developing a personalized approach to time management and organization that will help you effectively get through daily tasks, efficiently plan and execute large projects, and have time for reflection and leisure activities.

September Term – September 18th (Tuesday) Noon-1pm Rm 102
October 1st (Monday) 5:30-6:30pm Computer Lab
November Term – November 8th (Thursday) Noon-1pm Rm 102
INFORMATION OVERLOAD? –
USING THE EMPIRE STATE COLLEGE ONLINE LIBRARY
TO RESEARCH & EVALUATE INFORMATION SOURCES
Research? Online library? The WWW? 7,000 hits? How do I find what I need? If these questions are on your mind, then this workshop will help you understand basic research strategies and information evaluation techniques that will show you how to narrow down research topics and focus your searches as you use the resources of the online ESC Library. You will complete the workshop understanding the differences in scholarly and popular sources, as well as primary and secondary sources; learn how to evaluate books, articles and web pages using basic evaluation criteria for research resources and assessing web pages, and you will have hands on practice using many of the Empire State College library's research database services.

September Term – October 23rd (Tuesday) Noon-1pm Computer Lab
November Term – November 29th (Thursday) Noon-1pm Computer Lab


LEARNING STRENGTHS :
LEARNING STYLES AND ACTIVE STUDYING

The key to academic success is knowing what you know, knowing what you need to know, and knowing how to best learn what you need to know. Your learning style is the way you prefer to learn. It doesn't have anything to do with how intelligent you are or what skills you have learned. It has to do
with how your brain works most efficiently to learn new information. This workshop will focus on helping you identify your own learning style and show you how to develop learning strategies that work for you so you can create a customized approach to achieving academic success.

September Term - October 10th (Tuesday) Noon-1pm Rm 102
November Term - December 19th (Wednesday) Noon-1pm Rm 102

WHOSE WORDS ARE THEY ANYWAY?:
DOCUMENTATION & ACADEMIC INTEGRITY
Confused when an instructor tells you to cite your sources? Unsure when you need to quote something or what to include in a list of references you used to write a paper? This workshop will cover the basics of what it means to document your sources and why academics follow strict guidelines for academic honesty.

September Term - October 24th (Wednesday) Noon-1pm Computer Lab
November Term - November 30th ( Friday) Noon-1pm Computer Lab

PLEASE NOTE - All workshops are one hour in length and are held in Latham.
The presenter will be videotaped during these sessions, and the video will be posted to the website listed below in order to
provide the information presented to all Northeast Center students whether they can attend the workshop or not.
Materials from workshops and other academic support materials will be available on this website under the Academic Support Information link.